2010 Tour de Cheapskate Underway
Thursday, July 1, 2010
My book-tours-by-bicycle continue in 2010 to promote my new book "The Cheapskate Next Door".  I'll be touring the Midwest, Pacific Northwest, and the East Coast during the summer of 2010.  Check the "Events" page for my itineraries of local book signings along the way.
If you'd like to invite me to crash on your couch when I pedal through your area, please email me at UltCheapskate@aol.com. 
Hope to see you on the roaed!
Posted by Jeff Yeager comments
Permalink
The Tour de Cheapskate 2010 is Underway
Wednesday, June 30, 2010
Posted by Jeff Yeager comments
Permalink
Tanned, Rested and (still) Cheap
Thursday, October 4, 2007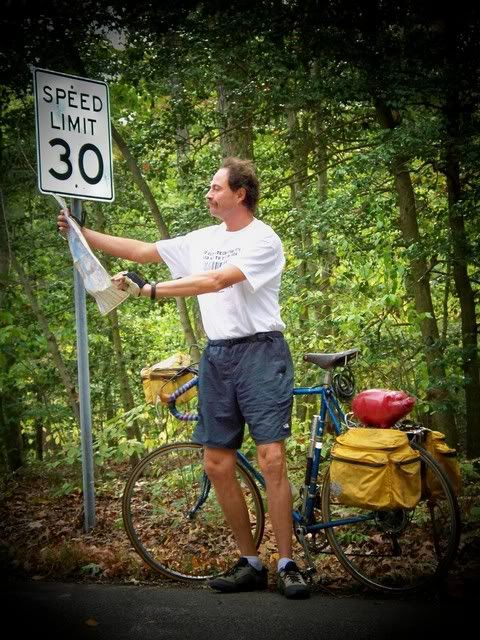 The Tour de Cheapskate is now history ... well, at least for the time being. I hope to hit the road again by bicycle in the late summer/fall of 2009. If you'd like to invite me to visit your area of the country, just email me (UltCheapskate@aol.com. It's always helpful if local libraries or other groups invite me to speak. Who knows, I may show up on your doorstep some day soon.

Stay Cheap!
-Jeff Yeager

---
I'm back home from the third leg of the Tour de Cheapskate --- tanned, rested and (still) cheap.
Tour de Cheapskate Ohio - AKA the Local Boy Makes Cheap Tour - was a blast, despite days of rain, some major bicycle problems, and riding into Sunbury, Ohio just as the sirens announced a tornado warning. Fortunately I took shelter in local bar for the next six hours (of course, the tornado warning actually ended after the first 30 minutes, but with fifty cent drafts, I thought it was better to be safe rather than sorry).
Between the three legs of the Tour de Cheapskate, I've pedaled about 1,800 miles and donated $2,000 to local libraries along the route. I've also held 20+ book signings and other events, and met some of the most amazing and generous people in the process.
In addition to staying with fellow cheapskates who kindly invited me into their homes through this and other websites, I relied on a terrific nonprofit website - www.CouchSurfing.com - to find free couches and new friends along the way. CouchSurfing has given me new hope for the future ... people opening their homes to total strangers, not just as a way of making travel affordable, but as a way of fostering friendship and understanding.
I'll be spending most of the summer here in Maryland, but watch the events page on this site for occasional library and other speaking events I'll be doing around the country in coming months. I also hope to hit the road for more legs of the Tour de Cheapskate late this summer and fall. We're looking at possible tours in the Pacific NW, Midwest (MI, WI, MN, IL, IN), Mid-Atlantic, and the Plain states (NE, KS, OK, TX). Write me at UltCheapskate@aol.com if you have thoughts on where I should go next.
Thanks for your interest and Stay Cheap!
-Jeff Yeager
Tour de Cheapskate Ohio Kicks Off May 4, 2008 (AKA The Local Cheapskate Makes Good Tour)
Jeff Yeager returns to his old stomping grounds (no, not the Dollar Store) for a book-tour-by-bicycle through his native state of Ohio. Born and raised in NW Ohio, Yeager will kick-off the tour with a book discussion at the Wood County Public Library (Bowling Green, OH)on Sunday May 4,at 3:00 PM. From there he will pedal his way to book signings in Toledo, Cleveland, Akron, Columbus, Dayton and Cincinnati (see Events page for dates and locations).
"I truly believe that northwest Ohio is the Cradle of Cheapskate Civilization," says Yeager, who was born in Sylvania, Ohio (a suburb of Toledo) and grew up in the farmland outside of Grand Rapids, Ohio. "I feel a deep, unspoken connection with my cheapskate lineage when I return to Ohio. The Miser Gene is clearly dominate in that fertile frugal plain."
Yeager is a 1980 graduate of Bowling Green State University, with BA in Thrift-craft. His parents still live in the Grand Rapids area, and have agreed to put him up for the night while he's visiting, provided that he brings his own food. "Last time Jeffrey stayed with us, I found two hand towels missing after he left," says his poooor Mom.
As with past Tour de Cheapskates, Yeager will be donating his savings (by bicycling and staying in the homes of fellow cheapskates) to local libraries along his route. If you would like to invite Yeager to stay with you, you can email him at UltCheapskate@aol.com.
Random Blog Posts from the Tour de CheapskateChicken GUTS & Author GLORY (San Diego, CA)
Having been an author for all of three weeks now, I admit that I still get a definite ego buzz whenever I'm introduced as such. "Author" is one of those occupations that gets people's attention. It conjures up images of busy book signings, thought provoking lecture series, and a glamorous life of penning deep thoughts in far off places.
It was 5:15 in the morning, and I just couldn't get the second chicken into my saddlebags. I'd managed to cram the pre-roasted bird in among the vegetable scraps, cooking utensils, and whole potatoes I'd brought with me from back East the day before, but the second chicken - the raw one - just wouldn't fit. I fumbled around in the dark, not wanting to wake my CouchSurfing host, but I knew I needed to get that slippery yellow fryer stowed pronto or I'd never have time to bicycle the 12 miles across town for the "cheapskate cooking" demo I was scheduled to do live on San Diego Living that morning.
With the stance and determination of an Olympic shot-putter, I grabbed the bird in my right hand and pushed with everything I had. The plastic wrapper snagged on a metal rivet on the inside of the saddle bag, and a geyser of cold, gelatinous chicken juice squirted over my hand and ran down into the pack, the same compartment that would carry all my clothing and other gear in the days and weeks to come. Ah, the enchanted life of an author ...
Click here to read the rest of the story on WiseBread.com
http://www.wisebread.com/chicken-guts-author-glory-tales-from-my-cheapskate-book-tour#comments
(To Catch a Cheapskate)San Diego, CA
I wasn't just crossing a state line - but the entire country - to rendezvous with total strangers I'd met over the internet. And, yeah, our email banter had been plenty explicit. Eventually, inevitably it ended with an exchange of real-time address info for the big night we planned to meet for the first time and spend together.
I buzzed the security gate at LD's condo in a leafy San Diego neighborhood and heard a voice hidden by the courtyard foliage say "Jeff, is that you? I'll be there in a minute. Just wait by the gate."
A wave of deja vu wafted over me. Was that Chris Hansen from Dateline NBC on the other side of the gate, or was I really about to lose my CouchSurfing virginity?
(Click here to read the rest of the story on WiseBread.com
http://www.wisebread.com/wise-bread-author-launches-cheapest-book-tour-no-cars-no-hotels-no-problem#comments
Can You Put This Cheapskate Up for the Night?
The first leg of the
Tour de Cheapskate
, a series of book-tours-by-bicycle, came to a close as author and Ultimate Cheapskate Jeff Yeager pedaled into Tucson, Arizona on January 25th, 600 miles and 11 days after striking out from San Diego.
"My blisters have blisters," Yeager commented, but smiled when he went on to explain that by riding his bike and staying in the homes of kindred spirits along the way, he'd already saved more than $1,000 which he donated to local libabries along the way.
Tour de Cheapskate South Florida
The Tour de Cheapskate continues, with the second leg in South Florida:
(All itineraries are subject to change.)
2/11/08 - Arrive TAMPA, FL
2/12/08 - Book Signing 6:00PM: Inkwood Books, 216 South Armenia Avenue, TAMPA, FL
2/13/08 - Cycle to BRADENTON, FL
2/14/08 - Cycle to SARASOTA, FL
NEW DATE/TIME!
2/15/08 - Book Signing 6:00PM: Sarasota News & Books, 1341 Main Street, SARASOTA, FL 34326 Ph. 941-365-6332
2/16/08 - Cycle to FORT MEYERS, FL - Book Signing 2:00PM: Borders Books & Music, 10037 Gulf Center Drive, FORT MEYERS, FL 33913
2/17/08 - Cycle to Lake Okeechobee, FL
2/18/08 - Cycle to FT. LAUDERDALE, FL
2/19/08 - Cycle to BOCA RATON, FL - Book signing 7:00PM: Barnes & Noble, 1400 Glades Road, University Commons Shopping Center, BOCA RATON, FL 33431
2/20/08 - Cycle to WEST PALM BEACH, FL
2/21/08 - Book Signing 7:00PM: Barnes & Noble, 10500 West Forest Hill Blvd., WELLINGTON, FL 33414 Ph. 561-792-1292
2/22/08 - Cycle to SEBRING, FL
2/23/08 - Cycle to TAMPA, FL
---
In addition to traveling by bicycle, Yeager economizes even more by staying with fellow cheapskates along the way (only if he's invited, that is). Being a big-hearted cheapskate, he donates what he saves in expenses to local libraries along his route. Other possible tours are being researched in the Mid-Atlantic, Midwest and other regions.
If you have room in your heart and home to put the Ultimate Cheapskate up for the night, email him at UltCheapskate@aol.com or post a message below. (He doesn't require much bed space, and he'll even help with chores around the house. Honest.)
Posted by Jeff Yeager comments
Permalink